RC Home | How To | Upgrade the Brakes on an OFNA DM-1
RC How To:
Upgrade the Brakes on an OFNA DM-1
One thing you need a lot of on these 1/7 and 1/8 scale on-road cars is brakes. These are big heavy cars and they move VERY quickly. Braking is of upmost importance.
For some electric guys, they have converted to a single spool and use the motor for braking which works very well. Most of the time you are only running about 40% braking power. But for the electric guys like me who like running a clutch and mechanical brakes as well as the nitro guys, you need good rotors and pads.
The stock system with the plastic fiber disk works well when you first start out, and this system will last longer down the road, but once it heats up a little, "brake fade" will happen and you will have almost no brakes until they cool down. Something you don't have time for in a race.
This upgrade is a simple part swap out as you will see below.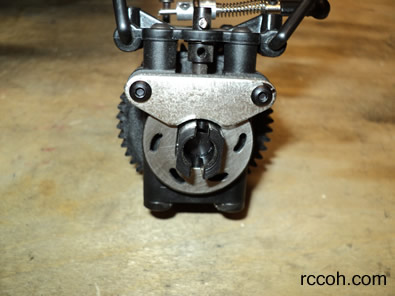 For this upgrade you simply need to order some special cnc aluminum slotted rotors and brake pad/plate set. I have the part numbers below.
Remove the transmission and replace the stock parts with the upgraded parts. It's that easy. Remember that your wheels need to spin freely when no brake is applied, so be sure to not tighten the pads down all the way.
Parts Used:
OFNA CNC Special Cut Brake Disk - OFN49009
OFNA Brake Pad with Plate Set - OFN36659