RC Home | How To | Balance Your RC Tires
RC How To:
Balance Your RC Tires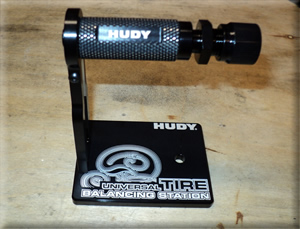 The first thing you are going to need to balance your RC tires is a good tire balancer. There are several good ones out there, but I picked up HUDY's because I like their other products I own.
The one I'll be using the Hudy Universal Tire Balancing Station (HUD105500) and I'll be balancing some wheels for my DM-1 so I will be using the 1:8 adapter (HUD105510).
Next you will need something to balance it. They sell some balancing putty, but I use simple modeling clay and it works great. You can also use plumber's putty or plasticine.
Below is a HD video to show how it is all done.
April 15, 2011
More RC Videos <--