RC Home | Reviews | Venom GPV-1 Motorcycle Review
Venom GPV-1 Motorcycle Review - Page 2
After taking the body off, it's clear this is a tightly engineered bike. Not much wiggle room for anything. Looks like maintenance on this bike will be time consuming.
A few minor adjustments were recommended. One is to center the servo arm, and the other is to relocate the speed control for better clearance for the front wheel. I centered the servo, but held off on the esc placement as that will be replaced with a brushless system shortly.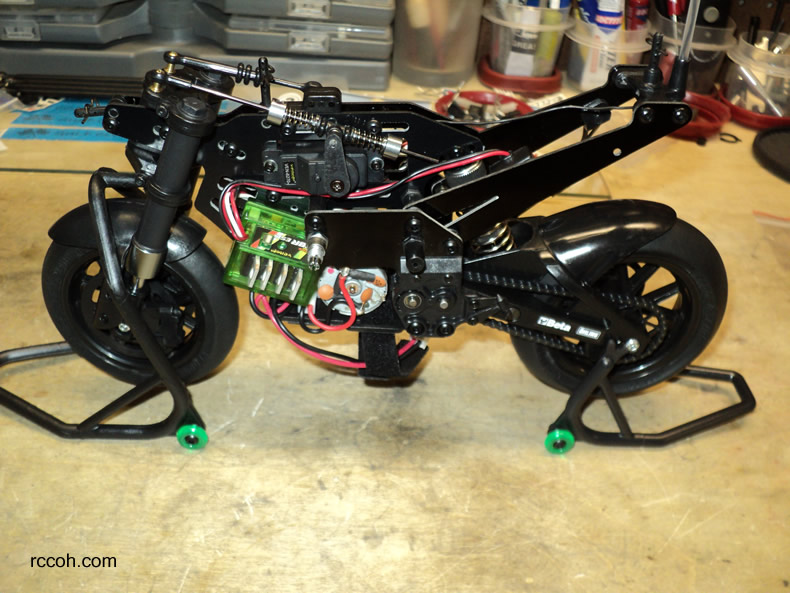 I had to trim away a little of the body for the spur gear to clear and not rub. Easy cut and it solved the problem.
Ready to roll.....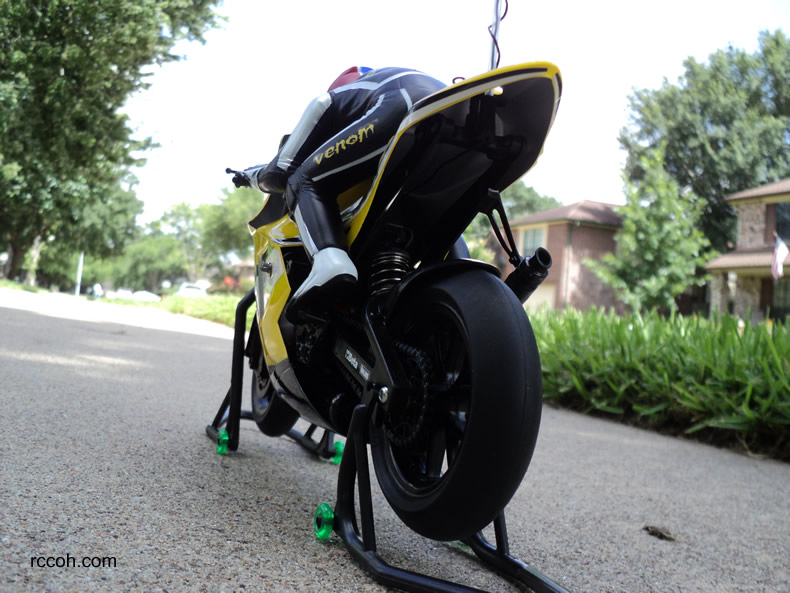 Driving it for the first time was a lot tougher than I thought. It does not drive like a car. It turns by leaning, so when you turn the wheel to the right, the wheel turns left allowing the bike to lean and turn right. I tried to drive it in front of my house but quickly discovered that is not the best place. It needs a nice open parking lot or track. The second time I drove it, it was a much better experience. I could drive it for several minutes before wiping out.
Many hop-ups to come and this bike has plenty!
Overall, I feel I made a great investment in this bike and I can't wait to get my hands on Venom's big dirtbike!
~~~~~~~~~~~~~~~~~~~~~~~~~~~~~~~~~~~~~~~~~~~~~~~~~~~~~~~~~~~~~~~~~~~~~~~~
GPV-1 Features and Specs:
FEATURES: Chassis: Hybrid carbon glass chassis structure for fine suspension tuning and low center of gravity for easy handling
Drive: Micro roller chain drive with indexable cam tensioner
Radio: Pistol grip Venom VR3T 3-channel FM computerized, 15 model memory, programmable steering dual rate Electronic Speed Control: 18R micro with reverse lockout and one button setup
Motor: Venom Fireball 370 micro with machined alloy motor plate
Spur Gear: Quick change style
Battery: 6-cell 7.2V 1200mAh NiMH micro battery pack
Battery Charger: AC
Tires: Venom Griplox high grip natural rubber tires with molded insert system.
Suspension: Front, two telescoping inverted forks with five machined Teflon bushings and eight fork pistons for fine tuning. Rear, adjustable rake angle with composite threaded rear oil filled shock with machined Teflon piston and bushing
Body Work: Pre-painted and decaled polycarbonate
Rider Figure: Pre-painted neo cell foam rubber
Ball Bearings: Six in chassis structure
INCLUDES: 1/8 scale RTR GPV-1 Motorcycle from Venom-Group with battery, AC charger, radio, front and rear track stands, ESC and manual
SPECS: Length: 10.6" (270mm) Height: 7.1" (180mm) Wheelbase: 7.4" (188mm) Weight: 1.54lbs (700g) approximate
~~~~~~~~~~~~~~~~~~~~~~~~~~~~~~~~~~~~~~~~~~~~~~~~~~~~~~~~~~~~~~~~~~~~~~~~
Whipnet's GPV-1 <--