RC Home | RC Paint Shop | OFNA Dodge Viper Body
OFNA Dodge Viper Body
A couple of reasons I like the GT cars are their size and their realism. And this 1:8 scale Dodge Viper body for GT cars (OFN31144) is perfect for my DM-1. This is also my first attempt at using an airbrush to paint a lid. Being that this is my first airbrush, I wanted to keep it very simple. Keeping with the realism thing, Vipers have simple paint jobs for the most part, so it was a no brainer for me.
Paint used:
Parma Faskolor Fasblack
Parma Faskolor Faskrome
Parma Faskoat
I always cut the body before painting; this always lets me smooth everything out with a Dremel without risking messing up the new paint. This body was a little short for the DM-1 Spec, so I had to cut my own rear wheel wells.
For masking, I used some tape for the racing stripes running down the center of the car and Fasmask behind the door windows.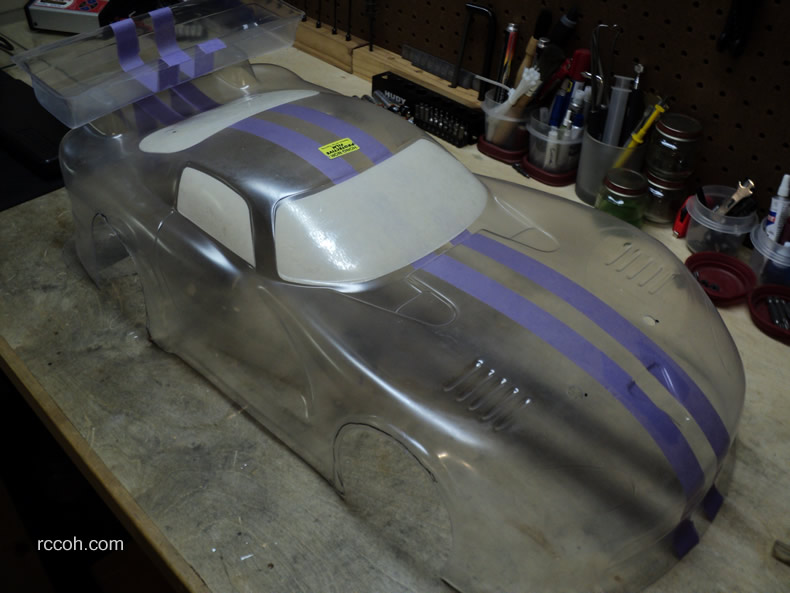 I was originally planning on doing a white with black stripes, but the wife reminded me how cool the Jeep turned out painted chrome and black, so I decided to go with it.
I paint very light coats and a bunch of them, letting them dry between coats.
I backed the entire thing in black. These huge lids take a lot of paint, so I am glad I now have an airbrush. I would have used 4 or 5 cans and those add up quick.
Be sure to pull the overspray off before putting the stickers on.
Decaled and mounted.