RC Home | RC Rock Crawling | NASA Killer Krawler 1:5 Scale Build
NASA Killer Krawler 1:5 Scale Build 4
(Page 4 - Servo)
This is a big rig, so for the extreme servo duties I went with a Hitec HS-7955TG 333oz of torque servo. I use this servo on other vehicles and will now use no other.
Installation was simple as everything else has been. Working with 5th scale and the room it allows is very nice.
The travel to the center of the chassis is a long way, so I went with a servo cable extender. I sealed it up so it wouldn't come apart and give NASA any trouble.
The public will be the primary drivers of this so NASA wanted it as simple as possible. Meaning 4 wheel steering was out. They preferred 2 wheel steering for its simplicity so I had to find a way to lock the rear axles. After looking at it for a few minutes I figured the easiest way was just attach its steering arm to the front. Removing the spacers in the link it was a perfect fit. The crawler tracks perfectly straight.
**UPDATE** (The rover has since been updated to 4WS and it works VERY well.)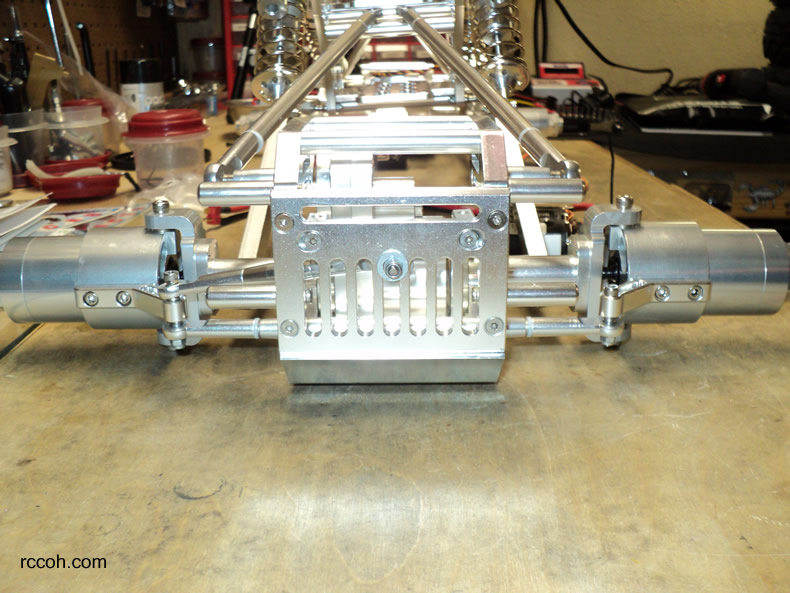 Part 1, 2, 3, 4, 5, 6 <-- | -->